COVID-19 … how we are adapting to the current situation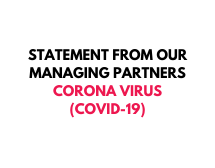 A statement from our Managing Partners:
The Panel is taking COVID 19 very seriously and has adopted all the government and HSE guidelines.
The office is working as normal, most of us remotely, some in situ. How we work is dictated by the best advice of the day. We will always be vigilant, and we are agile to adapt to this very fluid situation.
Acting responsibly, we are interacting with clients and candidates alike using the technologies outlined below so minimising the risk of potentially spreading the virus.
The Panel is taking a "business as usual" approach.
We invested significantly in cloud technology in 2019 which allows us to continue to provide the highest level of customer service to you no matter where we are located.
Our integrated systems – our CRM, our phones and all our Microsoft products are accessible remotely on the cloud. We are also utilising Skype for Business for interviewing, the GoTo Meetings application and other online tools for communication both internally and externally.
We can:
Manage any vacancies you have live using the best recruitment technologies on the market.
Discuss any possible future vacancies you may have and do preliminary talent mapping so we are good to go when you are.
Answer any queries you have as normal.
Communicate by phone, email, Skype for Business, GoTo Meetings etc.
Stay safe,
Anne, Paul & the team.
Here are some useful links related to COVID-19:
Health Service Executive (HSE) – Coronavirus (COVID-19)
Health Service Executive (HSE) – YOUTUBE VIDEO: Protect Yourself from COVID-19 (Coronavirus)
World Health Organisation – Q&A on coronaviruses (COVID-19)
Anyone with concerns that they may have come into contact with a person who has Covid 19 should contact the HSE Live Helpline on 1850 24 1850.