What your recruitment consultant can do for you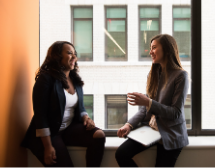 The process of searching for a new role can be a daunting process for some people. Compiling your cv, reviewing job boards and deciding on which recruitment consultant to use can be time consuming, especially if you are working full time.
Securing the right position is crucial and not just from a job satisfaction or remuneration perspective, it will also impact your next move. Therefore, choosing which recruitment consultant(s) to partner with is an important part of the process. Ideally you want to work with a recruitment consultant who is experienced and a specialist in your area. These recruitment consultants will have extensive in-depth market knowledge and will be best placed to assist you when searching for your next role.
Here are some of the services that a well networked recruitment consultant and recruitment firm such as The Panel can offer you.
Advice 
A good recruitment consultant will be able to assist your job search in a variety of ways. They will be able to advise you on cv preparation, your LinkedIn profile, how to prepare for different interview formats and how to sell your experience and critical skills to distinguish yourself from other applicants.
Feedback 
They will provide honest and detailed constructive feedback on your interviews, highlighting any areas that you need to improve on.
Market Insights 
Recruitment consultants can advise you on current salary levels and what you are worth in the market. This is especially useful when you are due a salary review or negotiating an offer.
They can also offer specialist advice on market trends, what sectors are busy and what skills are in demand.
Guidance 
A good recruitment consultant will offer career guidance and assist with planning your career and what steps you will need to make to achieve your long-term career goals.
Network  
An experienced recruitment consultant will also have built up a large network during their career. When you partner with a recruiter not only will you have access to their network, it can also open additional opportunities you didn't know about.
Exclusivity  
In addition, some recruitment consultants will have exclusive agreements with some companies and these roles may not be advertised.
Recruitment consultants like to work with candidates on an exclusive basis particularly if they feel they have lots of roles to run by them. Exclusivity means you develop a strong working relationship with your consultant and know they are always considering you for roles as they come in.
Confidentiality 
A recruitment consultant will work on your application in a confidential manner. They will request GDPR consent from you to hold your details on file and to send your CV to their client firms. Your recruitment consultant should always ask for permission to send your details to a client. In The Panel we have always focused on providing the highest level of service to candidates and have always asked for permission from candidates to send their details to client firms.
With Covid-19 the traditional face to face interview is now being replaced by video calls. The majority of our clients are conducting video calls for their interviews, using various apps including Microsoft Teams, Zoom, GoToMeetings and Skype.
For a job seeker there are many variables to consider when conducting a video call. Our colleagues Adam Ryan has prepared an article on how best to approach a video call interview and how you should prepare, and Sarah Kelly recorded a very useful video on what to consider when updating your CV.
At the end of the day recruitment consultants are here to help you and to take the stress out of finding your dream job. They will save you time that you can instead spend with your family, friends or hobbies. Remember, a well networked recruitment consultant will open many doors for you!