PIVOT SERIES – How "Lafferty Architects" has pivoted during the lockdown
With a team of 70 Architects and Project Managers, our approach is largely based on teamwork and creative collaboration. Prior to the lock down experience I would have believed this could only be effectively achieved face to face.
However, since the 13th March our full team have been successfully working from home. Originally planned as a trial WFH day to test our IT resilience, overnight, just like everyone else it became our new norm. We were fortunate that technology in our industry has advanced to a stage where all project data sharing is on a BIM digital platform and through continual investment in IT innovation (and our wonderful IT Manager Jen), our team didn't skip a beat in servicing our client's needs. I don't like to think of how challenging this situation would have been had we faced it 10 years ago.
We have put a lot of focus on building a strong company culture at Lafferty over the past few years through investing in the talent of our people, which essentially is the core value of our business. During lock down, the creativity, motivation and commitment of our team has paid us back in spades, demonstrating leadership and continuity of a high-quality service. No deadlines have been missed.
Response to Crisis
Our initial response was to contact all our Clients to reassure them of continuity of service, listen to their specific challenges in this rapidly altered environment and find out where we could be of support. Having worked through the last recession and understanding the importance of cash flow at a time of crisis, it was also essential to include an open commercial discussion. A good client and service provider relationship is a supportive one, as both parties want each other to emerge post-crisis in a strong position.
Given the economic uncertainty and temporary closure of construction sites, it was inevitable that some projects were revaluated or paused. Some sector classes will be very challenged post-lock down, although the correction in the market will also bring new opportunities.
While our focus is very much on winning new business and servicing current projects, delays to projects have created an opportunity to re-evaluate and reassign resources.  We are delighted to be able to use this in a very positive way by offering our services to support to a very worthy cause.
We were approached in April to step in as Architects to design 30 new homes for the Empower the Family Charity on a vacant site in Ballymun. This is a venture that our Project Managers were already involved in and the previous Architects had to suddenly withdraw due to uncertainty around Covid. The Charity, founded by the inspirational Deborah Somorin, supports disadvantaged single parents to complete their university education and essentially recast their life path. We assigned two of our experienced residential Architects, Daire and Jelena on the project which will be progressing to a Planning Application in mid-summer.
With the inevitability that WFH will form part of many company's employment strategy going forward, we recently partnered with a Fabrication Company to design a Garden Office Pod that will incorporate a strong design and sustainability ethos. We believe that successful long-term WFH will require a demarcation between home and office space.
As a Team Building exercise, we decided to run this as a concept design competition within the Practice.  Following a great response with 13 really creative entries, which we had externally judged, an elegant garden pod design by Ola, one of our talented Architects from our Polish office came out on top. Prototypes of the Pod are currently being fabricated and we are really excited to see the end result.
The Future
While there are not many positives to be taken from this tragic period, we do intend to ingrain some of the good experiences we have encountered over this time into Lafferty. I would have been previously sceptical of WFH as a workable business model due to the lack of collaboration and oversight. My perception of this has completely altered and there is without doubt a place for a hybrid working model that will allow more productive focus time in a home environment and the subsequent work/life balance advantages it will bring. It will not work for all, but it will add flexibility to how we resource projects.
It has also reinforced the essential truth of having great people around you and a strong team culture with a clear common purpose.
The value of our neighbourhoods has never been so appreciated as during this time of restricted movement. It would be great to think that one positive would be to put greater emphasis on building strong sustainable local communities with amenities that support all age groups. We are all now very aware of what is within our immediate vacinity.
On a national level, it is essential that the State significantly invests in infrastructure, healthcare and housing, the pressing issues pre-Covid still remain.
I believe that Ireland is in a strong position to be one of the economies that recovers quickly. We have developed a more varied and layered economy since the last recession and the country's collective response to the Pandemic will show us in a positive international light. I am optimistic that after a challenging period the future will be bright – but I wouldn't be getting the shades out yet.
www.lafferty.ie
Jim Gallagher
Managing Director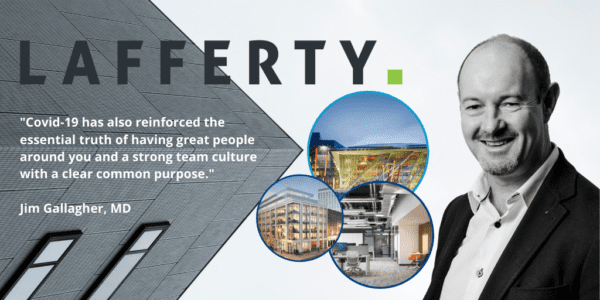 You can catch Lafferty Architects on the following social media platforms:
Lafferty Architects on LinkedIn
Lafferty Architects on Instagram