PRMIA event – 15th July, Webinar – The Brexit Clock is still ticking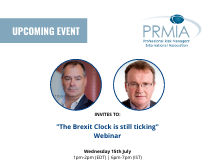 As the Co-Regional Director of PRMIA Ireland Alan Bluett would like to invite you to the next PRMIA Ireland talk, and the first webinar of the year, on Wednesday 15th July at 1pm-2pm (EDT) / 6pm-7pm (IST).
"The Brexit Clock is still ticking"
A two panellist discussion on the geopolitical developments surrounding Brexit, and how it will work in a COVID-19 future.
The webinar will be moderated by PRMIA EMEA Regional Directors Committee Co-Chair, Dr Monika Smatralova.
Click to register for the "The Brexit Clock is still ticking" webinar
Featured Panellists include:
Jim Power is Chief Economist for Aviva Ireland. He was previously Treasury Economist at AIB  (1987-1991), Chief Economist at Bank of Ireland Group  (1992-2000) and Chief Economist Friends First Group (2000 to 2018).
He is owner manager of Jim Power Economics Limited, an economic and financial consultancy. The company carries out consultancy projects, public speaking, and training for a variety of public and private sector entities. He is Chairman of Love Irish Food. He is a member of the Institute of Directors in Ireland.
He is a graduate of UCD and holds a BA and a Master of Economic Science Degree. He lectures part-time on the MSc Management and the MBA at Smurfit School of Business, UCD.
Richard Pike has extensive experience of working with financial institutions throughout the world, assisting companies in managing enterprise risk more efficiently while addressing local regulatory guidelines and standards. Richard is currently Chairman of Citadel Securities (Ireland) Ltd and an Independent Non-Executive Director at, FBD Insurance plc, The National Cyber Security Society, JPMorgan fund administration, JPMorgan hedge fund administration and Citadel Securities Europe. He is also the founder and CEO of Governor Software.
Prior to these roles, Richard has worked in various senior banking, insurance, credit and market risk roles at Permanenttsb bank, Wolters Kluwer Financial Services, ABN AMRO, Bain, COMIT Gruppe and Quay Financial Software.  He has analysed, designed and managed the development of core treasury and enterprise risk management systems for large financial institutions, including UBS, Citibank, Schroders and Unicredito.
In 2009, Richard was recognised as a "Top 50" Face of Operational Risk by Op Risk & Compliance magazine and was a contributing author to two books on risk management.  He was also a founding board member of the Governance, Risk and Compliance Technology Centre which focuses on research in the area of financial services governance, risk and compliance. He teaches on risk management at the Institute of Banking and at the UCD Smurfit Business School. Richard has also received the designation of 'Certified Bank Director' from the Institute of Banking.
Click to register for the "The Brexit Clock is still ticking" webinar
*** This event is FREE for members and non-members, although registration is required.  Click "Register Myself" below to reserve your spot. ***
AGENDA:
6:00 PM Panel discussion opens
6:45 PM Panel discussion finishes
6:45 PM – 7:00 PM Q & A Session with the audience
Click to register for the "The Brexit Clock is still ticking" webinar