Calcutta Run 2020 – A Virtual event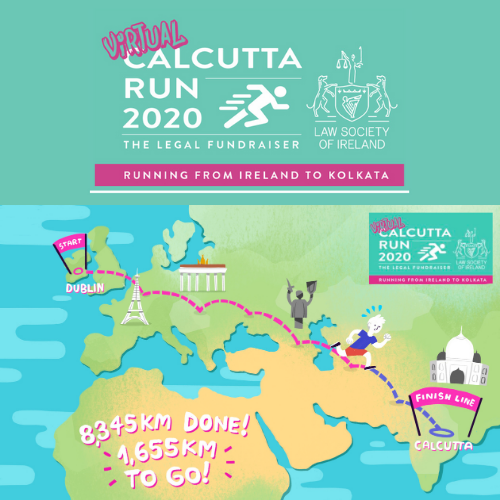 Entering its 22nd year, the Calcutta Run 2020 had great hopes to smash all previous records, however due to Covid-19 it had to go virtual for the first time ever!
The event which took place between October 30th – November 8th, asked participants to run, walk, cycle or hike the equivalent distance between Dublin and Kalkota in a combined effort (10,000km!) and raise money via iDonate.
All funds raised in aid of the The Peter McVerry Trust and The Hope Foundation.
Last year, over 1,500 participants took part and attended the event in Dublin. A record €300,000 was raised for the chosen charities, this year the organisers hoped they would raise close to €150,000.
At the end of the event organisers were delighted to confirm that they had raised an amazing €280,499.05, that is almost twice the amount the aimed for.
Big congratulations to all the participants, The Law Society and those behind the scenes making it all happen. A special thanks to Hilary Kavanagh who once again organised a fantastic event.
We would also like to thank our team members  Sarah Kelly, Noel Lynam, Hilary Kilcawley, Derek Mahon, Tara Hayes, Mal Convery, Alan Bluett, Emma Jane Mathews, Anne Keys, Ildiko Kiss, Fergal Keys, Lyn Brosnan, Liam Murphy, Tanya Brennan, Evan Farren and Adam Ryan for taking part and raising an impressive €2,585, thank you team!
Until next year!