PRMIA Ireland Webinar – "Revolution & Evolution – the Fintech Experience Unplugged"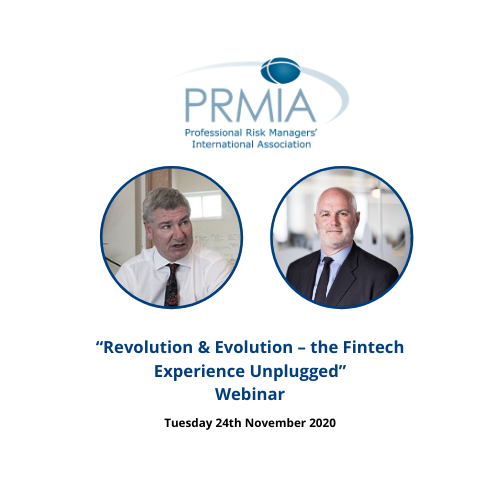 On Tuesday 24th November, 2020 PRMIA Ireland invited participants to their second webinar of the year - "Revolution & Evolution – the Fintech Experience Unplugged". As the Co-Regional Director of PRMIA Ireland Alan Bluett invited interested parties to participate.
The event featured two esteemed guest speakers Peter Cripwell and Mark Byrne, who looked back at their respective Fintech journeys.
Peter Cripwell took the lead on the Revolution, namely how to create, build, disrupt and scale a business, the ultimate Fintech Dream.
Mark Byrne looked at the Evolution of Securities Finance and its response to the financial crisis of 2008 and EquiLend's role as a provider of a suite of fintech products to the industry since 2001.
Speakers:
Moderator:
Alan Bluett is the Regional Director of the Irish Chapter of the PRMIA, a Patron of the Irish Association of Corporate Treasurers, a Member of the Institute of Bankers and a Fellow of the National Recruitment Federation. For his day job Alan is a Partner and Banking & Treasury Specialist with The Panel (An Executive Recruitment Firm) and has worked with company since 2004. Prior to this he has over 11 years' work experience within Treasury in Dublin, where he was Associate Director and Head of Fixed Income Trading for RBS. He holds a BComm and MBS from University College Dublin.
Many thanks to the speakers for the invaluable insight and inspirational stories and to the organisers on a great event.
For more information on PRMIA Ireland.