The Panel – Proud sponsors of the Irish Funds Annual Global Funds Online Conference 2021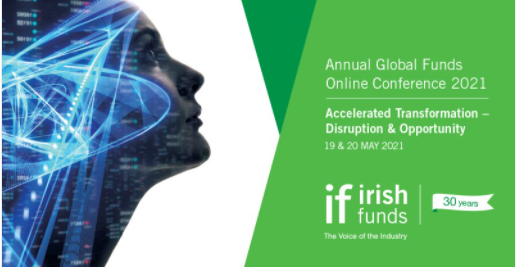 For a second year running the annual Irish Funds Conference was held online and The Panel were delighted to sponsor the event and hold a virtual booth.
On May 19th and 20th, the Irish and global funds industry took part in a very timely and apt 2-day conference, presenting some excellent industry experts.
Day 1 of the conference dealt with issues and questions surrounding the issues facing business leaders in a post-Covid environment, updates from Regulators, a very insightful discussion surrounding CP86, and the new regulations put in place over the last 12 months and changes ahead. It also included a panel discussion on diversity and inclusion, one of the hottest topics at present time.
Day 2 kicked off with an insightful outline, courtesy of Pat Lardner, on the economic contribution funds and asset management industry have on the Irish economy. He also spoke of and shared the Indecon Economic Impact Assessment Report 2021, well worth a read.
Other panel discussions of the day covered real assets, how to humanise organisational transformation, FinTech and where it is at, the emergence and steady rise of ESG within organisations worldwide. A keynote address by Mairead McGuinness, European Commissioner for Financial Stability, Financial Services and the Capital Markets Union divided up the afternoon with some interesting points on Ireland's positioning in the financial markets not just within the EU but also globally.
We would like to thank the organisers for another excellent event, and all those who visited our virtual booth for a chat with our team members and to find hidden gamification code.
Representing The Panel at the event was: Anne Keys, Sarah Kelly, Liam Murphy and Finlay Barry.
Day 1
Day 2