PRMIA Ireland Webinar – How Green Lending Could Save The Planet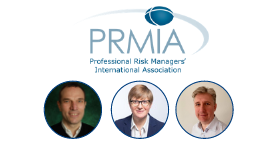 On Thursday June 10th 2021, PRMIA Ireland hosted their webinar "How Green Lending Could Save the Planet". As the Co-Regional Director of PRMIA Ireland Alan Bluett (Partner, The Panel) invited interested parties to attend.
Participants were treated to a fascinating and insightful sustainable lending webinar where the panel of risk professionals gave attendees their insights into how the future of lending is being impacted by the macro-economic drive towards sustainable lending and how climate risk and associated challenges can be quantified.
This was followed by a Q&A session kindly moderated by Elmarie van Breda (Managing Director, FinRisk), Dr Monika Smatralova and Alan Bluett.
Event Gallery
Speakers
Moderators
For more information on PRMIA Ireland.