Join The Panel Fantasy Football League 2021 2022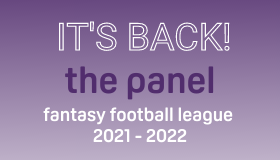 The Panel Fantasy Football competition for 2021/2022 is now open for business!
The Panel FF League is a fun competition for those of you interested in Premiership football with monthly prizes and one Manager will be crowned The Panel Fantasy Football Manager of the Year 2022.
If you are looking to join The Panel league for the first time, please follow the instructions below.
To enter, please follow these simple steps:
Email fantasyfootball@thepanel.com with your team name and "I consent for GDPR purposes".
We will send you the league code and add your email to our weekly mailing list (we send you TV times for games, our Scout's transfer recommendations, etc.)
Then, go to https://fantasy.premierleague.com/ and set up your team.
Click on The Leagues tab
Click on Join a League
Choose the Private League option
Put in the league code (type it in, pasting the code in does not work)
You are all set!
Guideline for previous managers who have played in our league:
Login at https://fantasy.premierleague.com/
If you have an existing account enter your email and password.
You will then be asked to update your personal details, favourites, and email preferences.
Once you have completed this you will be brought to your account page.
Click on Fantasy Premier League.
You will then be asked to pick your team and enter your squad.
If you have previously entered a team into our league (www.thepanel.com) you will automatically join our league. You can see confirmation of this on the right-hand side of the screen under Classic Leagues.
IMPORTANT NOTE!!
Please note that to qualify for the prizes you must email your team name in the subject line to fantasyfootball@thepanel.com. If your team's name isn't on our records, you will not be eligible for prizes.
Due to GDPR regulations, we also need you to send us your consent to send you league updates, to ensure that we can contact you, include a line with "I give my GDPR consent " in the email response.
Prizes:
Monthly prize of €100 All4One voucher for the monthly winner.
Overall winners: First prize – €500, second place – €250, third place – €100.
Some important information:
We will remove teams from the league who haven't confirmed their registration to fantasyfootball@thepanel.com.
If more than one person is eligible for a prize, the prize will be shared pro-rata.
Feel free to pass on this mail to anyone who may have an interest in joining, just ensure they email us their team name to qualify for prizes.
You will need to have your team registered before the kick-off on Friday, August 13th at 11:00 am.
We will accept entries until midnight October 2nd, 2021.
The monthly and overall winners will be dependent entirely on the https://fantasy.premierleague.com/ drop-down menus.
Teams with offensive names will be removed.