PRMIA Ireland Webinar – Risk Management Through CEOs' Lenses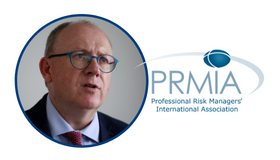 On Thursday December 13th 2021, PRMIA Ireland hosted their webinar - Risk Management Through CEOs' Lenses. As the Co-Regional Director of PRMIA Ireland Alan Bluett (Partner, The Panel) invited interested parties to attend.
On Thursday 13th December PRMIA Ireland hosted their webinar – "Risk Management Through CEO's Lenses" featuring guest speaker Jeremy Masding, ACIB, FCIB, DipFS, CBD, MBA.
The event looked at how the pervasiveness of risk in the workings of everyday business means that boards must factor risk as an integral part of organizational strategy.
In conversation with Masding, the moderators discussed a number of key factors related to the relationship between the senior management and the risk department. What they are, and if any, and who is to be held accountable for decision making. Masding further explored how this works at a practical level for senior executives and how the function of risk management is perceived by those to whom it is supposed to serve.
This was followed by a Q&A session kindly moderated by Dr. Monika Smatralova and Alan Bluett.
Event Gallery
Speaker
Moderators
For more information on PRMIA Ireland.