Anne Keys on the panel at the EY Funds Form 2023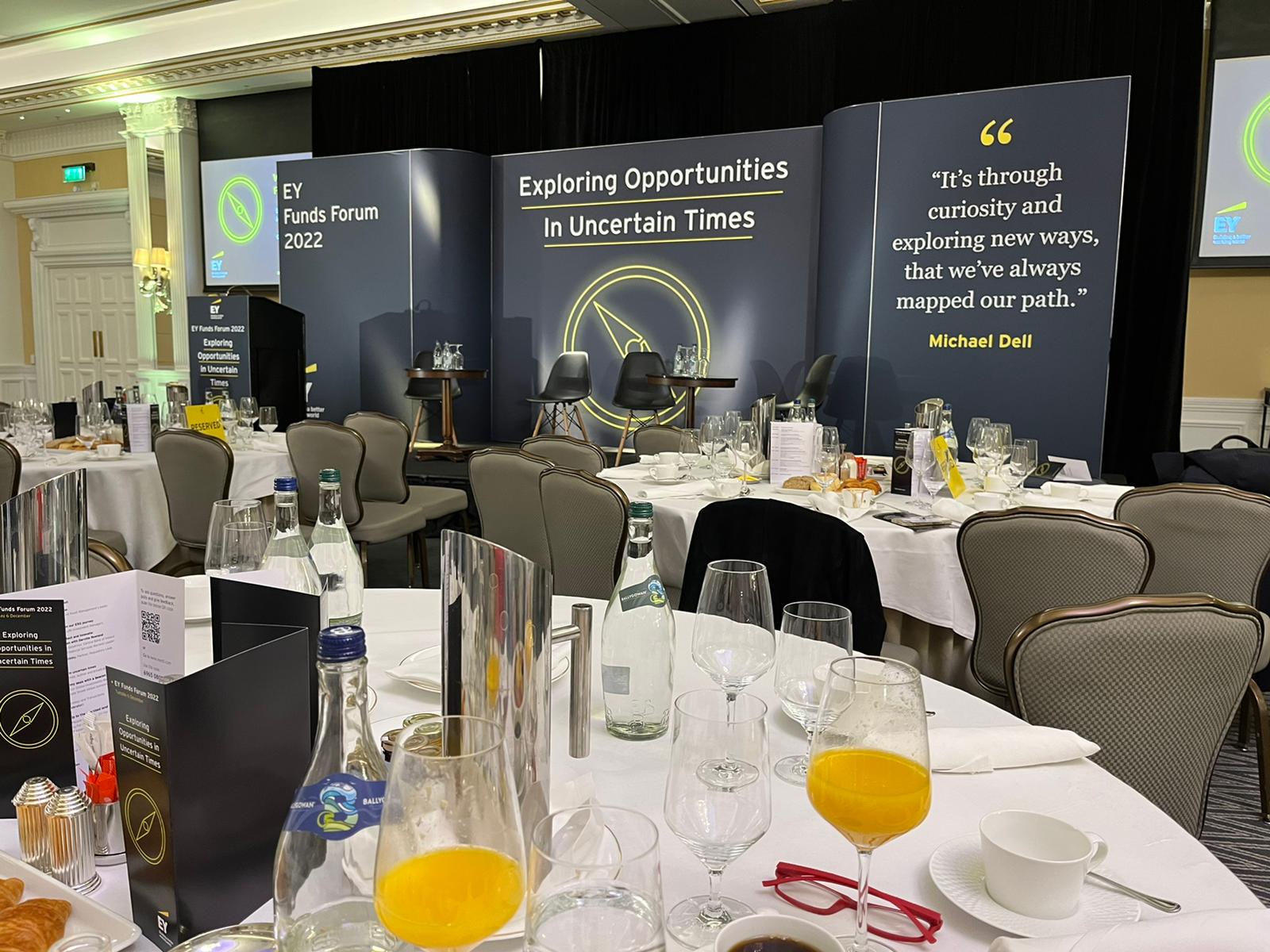 On Tuesday 6th December 2022, EY Funds Forum 2023 took place at the Shelbourne Hotel. Our Managing Partner Anne Keys were one of the panelists featured on the day.
The event 'Exploring opportunities in uncertain times' was a half-day event organised and sponsored by EY Ireland.
The day was kicked-off with an introduction by Fergus McNally (Wealth & Asset Management Leader, EY Financial Services) and Patrick Burke (CEO, Irish Life Investment Managers) who gave a great presentation on how Irish Life set out on its ESG journey and where they are today.
This was followed by an informative discussion between Lisa Kealy (Partner, Irish Financial Services Market Leader) and Deputy Governor at the Central Bank of Ireland, Derville Rowland. A very interesting conversation on what is required to protect and innovate in a constantly changing financial environment.
David McWilliams (Economist, Author, and Broadcaster) looked at what opportunities lie ahead, albeit uncertain times, a talk which was followed by the first panel discussion of the day 'Navigating stormy seas with a beacon of light'. Panelists were Carmel Jordan (CEO, Mercer Global Investment Management Ltd.), Anne Prendergast (CEO, State Street Global Advisors Europe Ltd.), and David Nangle (CEO, VEF). This discussion was moderated by Devarshi Ray (Partner, Strategy and Transactions, EY Financial Services).
During the second panel discussion of the day, our Managing Partner Anne Keys was featured as a panellist together with Jackie Gilmore (Partner, People Consulting, EY Financial Services), and Ciaran O'Hare (Head of HR Ireland at Northern Trust). They discussed how Ireland needs to main relevant, how to attract and retain key talent and how culture and purpose rank high on candidates agenda when looking for a new role. The session was brilliantly moderated by Ailbhe MacManus (Assurance Partner, EY Financial Services).
After the closing remarks by Fergus McNally, participants were treated to some tasty mince pies and networking.
Representing The Panel were Anne Keys, Sarah Kelly, and Darina Heavey.
Many thanks to Ailbhe MacManus, Lisa Kealy, Fergus McNally, and everyone behind the scenes from EY for a great conference.
Photo Gallery
Official Photographs (courtesy of Fennells Photography)