The Real Deal Conference 2023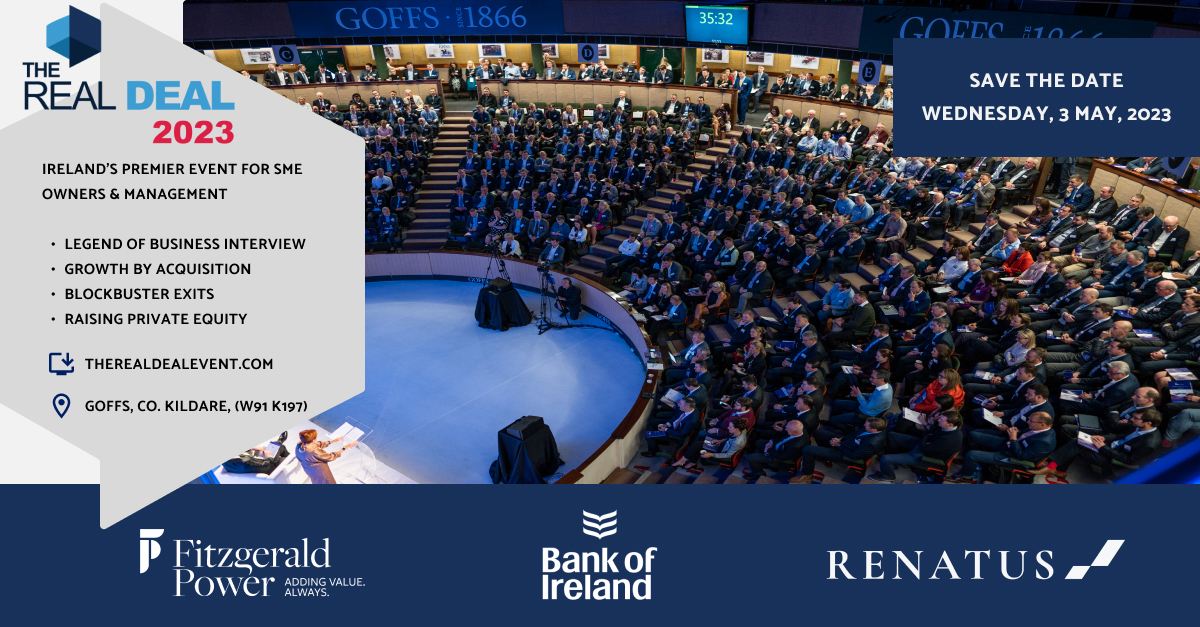 Following on from the success in 2019, the Real Deal conference is now back bigger and better than before.
What is the Real Deal?
The Real Deal is one of Ireland's leading premier SME conferences and offers small and medium business owners, and entrepreneurs the opportunity to network and listen to high-calibre speakers who share their experiences.
Taking place in the beautiful surroundings of GOFFS in Co. Kildare (W91 K197), on Wednesday 3rd May, this is a one-day event not to be missed.
Though the full line-up of speakers is yet to be announced, the key "Legend of Business Interview" hosted by MC Matt Cooper will this year be inspirational Gene Murtagh, CEO of International Insulation Group Kingspan.
The Real Deal is an excellent event for business owners, entrepreneurs and SMEs to network and listen to speakers who have been through the same scenarios as you. It offers plenty of inspiration and insights and is well worth a day away from the office. I really look forward to attending the event again."

– Paul McArdle, Joint Managing Partner, The Panel –
Topics on the day include
Legend of Business Interview with Gene Murtagh, CEO, Kingspan
Raising Private Equity
Blockbuster Exits
Growth by Acquisition
To secure your ticket visit the  >>checkout <<
Any questions please contact our Managing Partner Paul McArdle at paul@thepanel.com or our Marketing Manager Mal Convery at mal@thepanel.com.