Employment survey – Part 1 – Working from home and the future of the office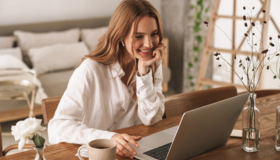 In this, the first out of three articles, our Managing Partner Paul McArdle looks at the results of our most recent candidate sentiment survey and respondents' attitudes to WFH/ hybrid and in-office work.
The Panel ran our Summer Candidate Sentiment Survey in May 2023. The survey was sent to candidates across the accountancy, financial services, HR, banking, treasury, funds, IT, and legal professions.
In our most comprehensive survey to date, we got a total of 3,025 people responding.
As well as answering single-choice and multiple-choice questions, we gave respondents a free text option to comment as they saw fit. The quotes in this article are from the candidates themselves.
This is the first article of three in The Currency and concentrates on the respondents' attitudes to WFH/hybrid and in-office work.
*****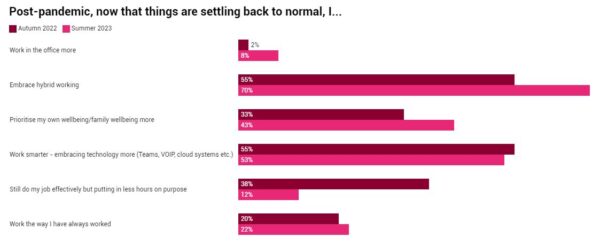 From our autumn survey, the biggest changes are the significant fall from 38 per cent (autumn survey) to 12 per cent (summer survey) of people who "still do my job effectively but put in less hours on purpose".
Some 43 per cent now "prioritise my own well-being/family well-being more", a figure that is up on 33 per cent from last year, which is a major change.
Four times as many people work in the office now. Not really a surprise as far more people are returning to the office, mostly working in a hybrid fashion.
What the respondents said:
"The first question focused more on working less when working from home – putting in less hours and spending time with family. But from my experience, it is the opposite – a lot of people work more at home than in the office."
"I believe we should concentrate on task completion rather than hours worked. If I'm able to get the tasks allocated for an "in-office" day completed in half a day… I should be paid for the allocated day."
"I work remotely in a global role, so my hours are not 9 – 5, and I constantly need to strike the right balance between what the company/colleagues want from me and what works best for me work-life balance-wise."
The responses to this question are remarkably consistent with our Autumn Survey. Employers should take note that only one in every 26 candidates chooses to work in the office full-time.
Two-thirds of candidates still prefer hybrid working arrangements, and one in eight of the candidates prefer working fully remotely.
What the respondents said:
"I prefer to work in a physical office and meet people regularly, but I also want to have flexibility when I need it, and it's practical at work."
"In relation to hybrid working, I feel that my employer is slowly moving to request that we return to the office full time and if this happens, I will be moving jobs. This is making me believe that the company does not trust employees to do the job even though I spent two years where employees did not go to the office, and the company had record profits."
"Would prefer working in an office full time. But can't justify moving into Dublin, and opportunities are limited outside of Dublin."
"I'm concerned for the next generation of workers who missed out on office life and are now at greater risk from AI than old hands like myself."
"I miss working in an office that I can commute to. My primary job and area of study is artificial intelligence, so I believe I will be in demand as an employee."
"I think there will be more of a knowledge gap between experienced employees and graduates. Real learning comes from being around people, which has changed since the pandemic."
This is a new survey question. Just over half of employers let their staff choose when they go into the office. This seemed high to us.
The 6 per cent of employers insisting their employees work full time in the office is consistent with what we thought the figure will be. These businesses tend to be the hardest to recruit for, bearing in mind the answers to the previous questions on working full-time in the office.
Fully remote working as an employer choice is something to keep an eye on. We expect this 3 per cent figure to rise, especially where an "on-site" requirement is not a prerequisite for the nature of the work being done.
That just one in three employers set hybrid working rules surprised us. We were expecting this figure to be higher.
What the respondents said:
"Working harder and longer since going hybrid. The overhead of travel/traffic is counterproductive."
"Working environments have changed. We need to model working practices around this. Happier staff are more productive."
"Hybrid working makes sense. Everyone rushing to the city centre every day at 9 seems to be a thing of the past. Long may it last."
"I think many employers seek specific skill combinations, sometimes making talent acquisition slow and challenging. Perhaps more attention must be on the ability and willingness to learn, motivation and instruments to grow talent."
"I think traffic, cost of office space, childcare costs, etc will exert enough pressure to allow some form of hybrid working to become normal."
"A lot of companies still have an outdated look on WFH. This will only result in more people being unsatisfied with their careers and looking for alternative options. Especially if you're in Dublin with crazy rent prices. No one wants to go back to pre-Covid times. Working crazy hours, being stuck in the office and feeling like you have no other choice. There was no work-life balance."
"People should be allowed to work worldwide as a remote option has shown to [be] working as well as working in the office."
"If I was told to stop working from home, I would resign."
"Where to work? I believe that extensively working remotely from the office will eventually prove to be detrimental to both individuals and organisations. Believe that AI is here, as was/is automation before it, and one has to adjust to its reality and potential impact; what will happen over the next 12 months is a concern as the world is in a dramatic period of uncertainty. No job or career is safe! irrespective of how one feels at the moment."

Two days or three days in the office seems to be the preferred hybrid model, with less than one in ten employers insisting their employees come in four days out of five.
What the respondents said:
"I feel that remote working shall move (on average) to three days in the office and that employees can't expect to stay fully remote for the vast majority of jobs. It will cost them more (child-care/dog care), as it did pre-Covid."
"I believe that employees need to get back to working more in the office post-Covid."
"We don't have set days to be in the office, but there is pressure to be seen that people working from home are not serious about their jobs. Presenteeism is creeping back, as is common in law firms."
"I would add that, for some people, especially working mothers, the new requirements to work a set number of days in the office are bad for employers who have introduced it."
"Demographics such as age and location have an impact on hybrid working."
"I really like the hybrid working model, and I am happy to comply with two days a week in the office. But I find it difficult to stay and work in a company that has taken a woolly approach to a hybrid model. Some staff only want to come into the office once a week, creating a difficult working environment for people who come in two days a week, so I am looking to leave and go to a company where there is a more comprehensive agreed hybrid model agreed with all staff."

Another new question in the survey. More than 70 percent of the respondents seem content with where they physically attend for work; some equilibrium seems closer to being reached.
One in eight respondents believe where they work is a key factor in them looking for new roles, which is something employers need to be cognizant of.
What the respondents said:
"The option to work remotely would be the key deciding factor if I were to move jobs."
"Your survey focuses very much on location. You need to focus more on company culture, as that makes a real difference to employees."
"Positive impact Covid made on remote working and proved we can manage work and life provided employers are flexible. Think this is one of the key factors for talent retaining."
"I am actively looking to move. Post-pandemic, my employer has made no changes re WFH."
"In terms of working arrangements, the questions were quite specific. What I really appreciate post-pandemic is the flexibility of being able to work from home and in the office."
"We are not going back to the office. Only boomers or those with a vested interest in commercial property are pushing anything more than two days per week in office."
"WFH needs to end. It's encouraging lazy people to be even lazier."
*****
We would like to thank all the respondents for filling out the survey. Special thanks to those who chose to add their comments; these were particularly illuminating.
This article was initially published on The Currency website.