PIVOT SERIES – How "The Source Bulk Foods " has pivoted during the lockdown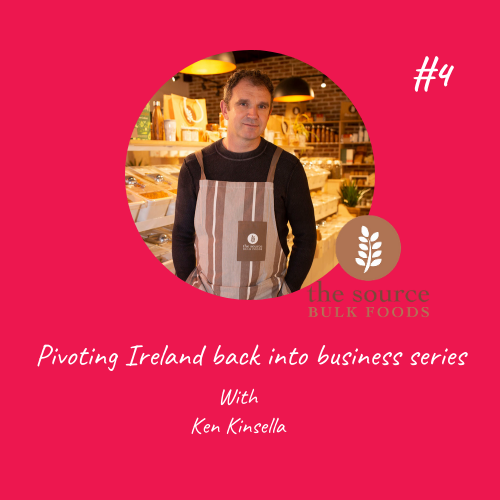 The Source Bulk Foods is a 'zero waste' grocer in Rathmines that stocks over 500 products, including organic wholefoods, cereals, herbs and spices, cooking liquids and oils, raw Irish honey, healthy snacks, as well as and sustainable personal and household products.
Our store is a plastic free environment where our customers have the option of refilling their own containers or using the paper bags or glass jars we have onsite.
Zero waste shopping has revolutionised the way a lot of people buy their groceries today, so we were delighted to set up the first Irish franchise of this Australian brand in December 2019. However, three months later our new store was faced with unprecedented business decisions as the country entered lockdown due to Covid-19!
Essential Service & Essential Changes
As food retail was considered an essential service during lockdown we were allowed to remain open. However, as a team we took the decision to close in the first 10 days to take stock of the new situation and to evaluate how we could best keep our customers and staff safe.  We introduced measures to ensure that our hygiene measures to combat Covid 19 were in line with government guidelines and we installed screens at our counter to allow customers and staff to interact with each other in a safe environment.  We also reduced the number of customers allowed in the store at any one time to 4.
When we re-opened we got wonderful feedback from our customers who visited us. Our regulars were genuinely delighted they could continue their zero-waste shopping experience during the lockdown. Our customers are very passionate about sustainability, the environment and avoiding the use of unnecessary plastic and packaging, so it was important to them that had the option to shop with us.
Pivoting Further
With so many of our customers self-isolating or wary of entering retail outlets we realised that we needed to offer an online option, and so our click & collect and delivery service was quickly developed.  With the help of our UK team we utilised our current POS and linked it to our website and within a few days we had a workable online solution.  This was also connected to our stock system so customer could only order with what we had in stock.
We have seen demand for certain products change.  All our baking products have dramatically increased in sales.  We have customers ordering 10 kilos of strong white flour who have never shopped with us before. Our Irish flour range which includes rye, spelt and wholemeal flour have quadrupled in demand and our sales of yeast, and other baking ingredients, such as chocolate drops and cacao butter, have been incredible.
The online ordering system that we have introduced is here to stay, so we have basically added two new routes to market in click & collect and delivery.  We're aware that we will need to upgrade the system in the coming months. Our customers have been extremely forgiving during the Covid 19 crisis as our online service, although phenomenally successful and user friendly, is by no means perfect!
Looking Ahead
We are optimistic about the future, but like many other businesses at the moment, we are cautious. We still expect to grow in 2020 and beyond, and we're already looking at new sites in Dublin.
If we had some advice for our community it would be buy local, eat local and this year explore the beautiful country in which we live rather than going abroad on holiday.  This is the best way to ensure that we employ as many people as possible, and support both the local economy and the environment.
https://www.thesourcebulkfoods.ie/
Ken Kinsella
Store Owner
You can catch Ken and The Source Bulk Foods on the following social media platforms:
The Source Bulk Foods on Instagram
The Source Bulk Foods Ireland on Facebook
Ken on Instagram
Ken on LinkedIn