The Panel to attend the 5th European Financial Forum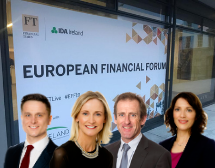 We look forward to attending this year's European Financial Forum, the 5th, taking place at Dublin Castle on Wednesday 12th February.
The event is a collaboration between the Financial Times and IDA Ireland, and brings together international and Irish industry professional that will give their thoughts and insights into the trends and issues facing the industry in 2020.
With a great line up of speakers including Sir John Major, Martin Shanahan (IDA Ireland) and Sharon Donnery (CBOI) we are certain there will be plenty of insightful discussions.
Attending the event on behalf of The Panel is Anne Keys, Sarah Kelly, Alan Bluett and Liam Murphy.