Calcutta Run 2021 – Going Global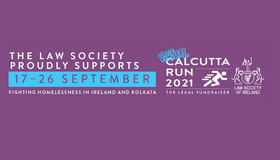 Calcutta Run 2021 went global, and collectively the aim was for participants to run, walk, hike or cycle 30,000km over 10 days from Dublin to Cork, on to New York, next stop Olympic Tokyo, on to Kolkata and finishing up in Dublin!
The event which took place between September 17th and September 26th was a massive undertaking as always and all funds raised were in aid of The Peter McVerry Trust and The Hope Foundation.
Big congratulations to all the participants, The Law Society, and those behind the scenes making it all happen. A special thanks to Hilary Kavanagh.
The Panel raised an amazing €5,350 and covered 1,354km in distance.
We couldn't be prouder of our team.
A big thanks to friends of The Panel, who stepped up and joined our efforts; Derek Mahon, Mark Fitzgerald, David Farmer, Noel Lynam, Emma Jane Matthews, Christian Leahy, Lyn Brosnan, Deirdre O'Hanlon, and Geoff Ryan.
Finally a huge thank you to our team:  Sarah Kelly, Mal Convery, Alan Bluett, Anne Keys,  Paul McArdle, Andrew Ganly, Andrew Wynne, Fergal Keys, Ildiko Kiss, Tanya Brennan, Adam Ryan, Finlay Barry, Farah Daoub, Rebecca Caulfield and Liam Murphy for taking part, you rock!
Until next year!
Here are some images from our Calcutta Run – Bray to Greystones walk and some pics of our team throughout the challenge.