The Panel – Proud sponsors of slido at the Irish Funds Annual Global Funds Conference 2022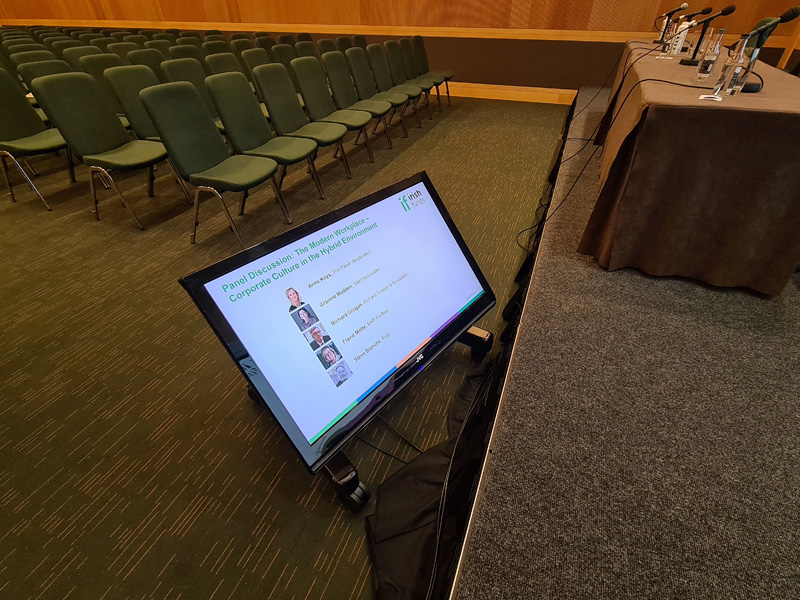 May 31st 2022, saw the return of the Irish Funds Annual Global Funds Conference at the Convention Center in Dublin Docklands. The one-day event was the first in-person event since 2019.
The event dealt with issues and questions surrounding the issues facing business leaders in a post-pandemic workplace, the opportunities, challenges, and potential solutions. It was a day full of presentations, keynote talks, and panel discussions, as well as the opportunity for everyone to network once again.
The Panel was delighted to sponsor the interactive audience participation tool Slido throughout the event, which gave participants an opportunity to see voting results live.
Our Managing Partner Anne Keys moderated one of the event's parallel panel discussions – "The Modern Workplace – Corporate Culture in the Hybrid Environment", featuring Gráinne Madden, Richard Grogan, Flavie Motte, and Steve Blanche.
In what was a very interesting discussion concerning topics many organisations are currently faced with, there was plenty of optimism, and examples of what/how not just the organisations represented by the panel, but also others are dealing with a changing workplace, talent retention, and the wellbeing of their staff. As a caution to the discussion solicitor Richard Grogan offered insights into the areas not looked at by many and what the implications of these can be for employers.
We would like to thank the organisers for an excellent event.
Representing The Panel at the event were Anne Keys and Liam Murphy.
Gallery