Sarah Kelly speaks at the Law Society of Ireland's Younger Members event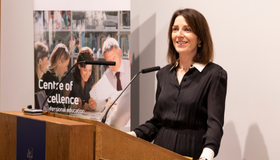 On Thursday 6th October 2022, the Law Society of Ireland held a Young Members Committee event.
Our Legal Partner Sarah Kelly spoke on the panel – "Building your Career – Tools of the Trade', also on the panel were Dr. Melrona Kirrane, Barry Lee, and Micheál Grace.
The Panel was delighted to sponsor the wine reception.
Many thanks to Fiona McNulty, Racheal Hession, Michelle Nolan, and Jessica for all the behind the scene work.
Photo Gallery
Courtesy of Cian Redmond Photography