The Panel attends the Law Society of Ireland's Annual Gala Dinner 2022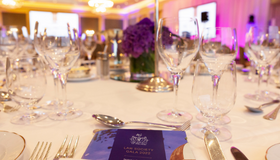 On the 14th October 2022, the Law Society of Ireland invited the irish legal community to their Annual Gala Dinner and Justice Award.
The gala dinner was held at the InterContinental Hotel in Dublin, in aid of the Solicitors Benevolent Association. The Panel was delighted to feature as a Partner Sponsor.
The event saw the inaugural Law Society of Ireland's Justice Award being presented to Ms. Larysa Gerasko, the Ukrainian Ambassador to Ireland for the People of Ukraine.
Speaking at the event was among others Michelle Ní Longáin, President of the Law Society of Ireland; Partner, Employment Law, Head of Public Sector at ByrneWallace.
Master of Ceremonies Claire Byrne (TV & Radio Presenter) interviewed Sean McHale, Irish Rule of Law, and Éamonn Conlon SC, Ukranian Ireland Legal Alliance.
Representing The Panel were Sarah Kelly and Ailbhe Mullen.
Event Gallery
Courtesy of Cian Redmond Photography